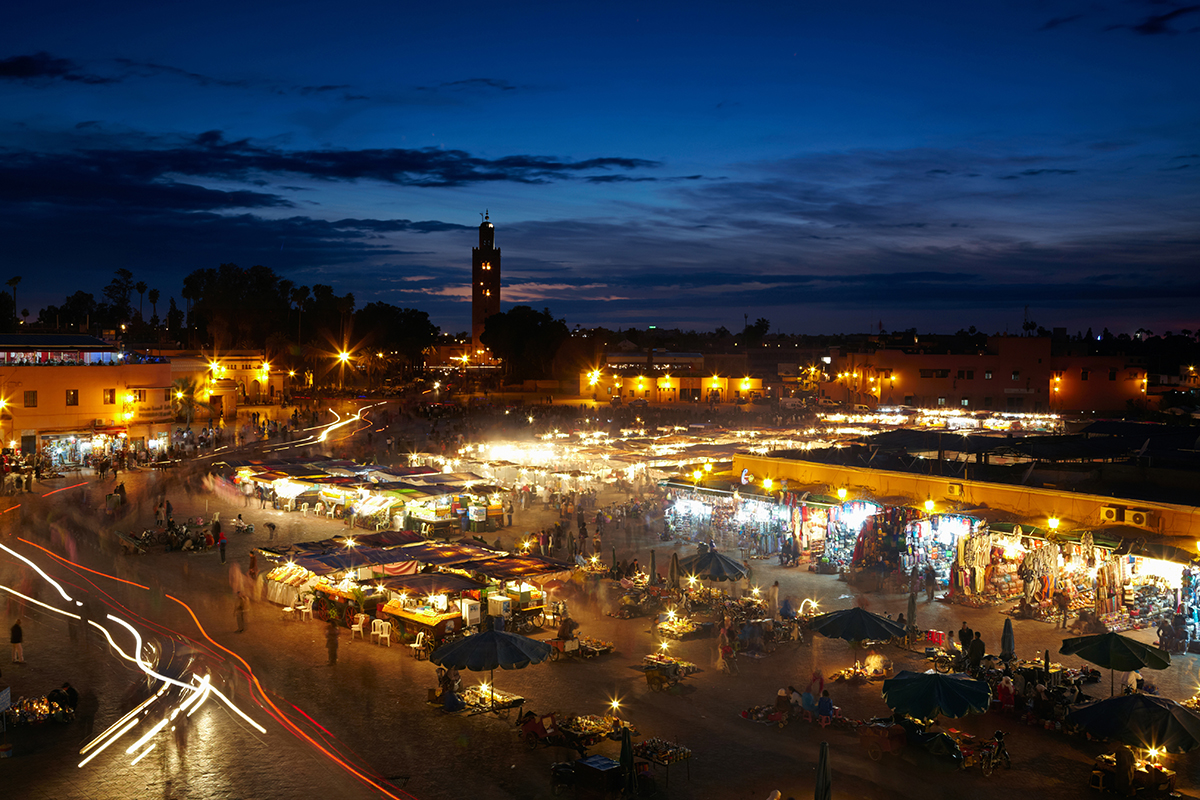 Jemaa El-Fna
There's nowhere in Morocco like the Jemaa el Fna – no place that so effortlessly involves you and keeps you coming back for more. By day, most of the square is just a big open space, in which a handful of snake charmers bewitch their cobras with flutes, medicine men (especially in the northeast of the square) display cures and nostrums, and tooth-pullers, wielding fearsome pliers, offer to pluck the pain from out of the heads of toothache sufferers, trays of extracted molars attesting to their skill. It isn't until late afternoon that the square really gets going. At dusk, as in France and Spain, people come out for an early evening promenade (especially in Rue Bab Agnaou), and the square gradually fills until it becomes a whole carnival of storytellers, acrobats, musicians and entertainers. Come on down and you'll soon be immersed in the ritual: wandering round, squatting amid the circles of onlookers, giving a dirham or two as your contribution. If you want a respite, you can move over to the rooftop terraces, such as the Café du Grand Balcon, for a vista over the square, its storytellers and musicians, and the crowds who come to see them.
As a foreigner in the Jemaa, you can feel something of an interloper. Most of the crowd are Moroccan of course (few foreigners, for example, will understand the storytellers' tales), but tourists also make a major contribution to both the atmosphere and the cash flow. Sometimes a storyteller or musician may pick on you to take part or contribute generously to the end-of-show collection and, entering into the spectacle, it's best to go denuded of the usual tourist trappings such as watches, money-belts or too much money; pickpockets and scam artists operate (giving a "present" and then demanding payment for it is an old scam to beware of, asking tourists to change counterfeit euro coins is a more recent one). The crowds around performers are sometimes used as an opportunity to grope female foreigners, and by male Moroccans and gay male tourists for cruising.
Sideshow attractions include games of hoop-the-bottle, fortune-tellers sitting under umbrellas with packs of fortune-telling cards at the ready and women with piping bags full of henna paste, ready to paint hands, feet or arms with "tattoos" that will last up to three months, though beware of synthetic "black henna", which contains a toxic chemical; only red henna is natural (the Henna Café guarantees to use only natural henna).
For refreshment, stalls offer orange and grapefruit juice (but have it squeezed in front of you if you don't want it adulterated with water and sugar, or even squash), while neighbouring handcarts are piled high with dates, dried figs, almonds and walnuts, especially delicious in winter when they are freshly picked in the surrounding countryside. As dusk falls, the square becomes a huge open-air dining area, packed with stalls lit by gas lanterns, and the air is filled with wonderful smells and plumes of cooking smoke spiralling up into the night (see Jemaa el Fna food stalls). (via Rough Guides)
RECOMMENDATIONS:

"Of the public food stands on the main square, we head directly to the fish stand, 3 brothers & only locals sitting & waiting in line, or for mixed plates & brochettes the 81, right in front of Argana Cafe (authentic, simple food, buzzing ambience, sharing tables, prices vary from 50 dirhams – 150 dirhams)" – The Secret Souk
"If you wanna try local food it's the place to go!! All varieties of food available, with a price range from €2-30 per person. Open till 2am." – Ilyass Chatoui
"This is the heart of Marrakech – the city of Marrakech was founded in the eleventh century by the Almoravid dynasty. Jemaa El Fna (in French: "assembly of the dead") is the geographical center of the city but is especially its spiritual center: everything happens, everyone meets at this place… around a tagine, listen to the sound of Berber musicians (mazighen) in front of a snake charmer, or listen to a legend told by bards (imayazen)… many 'services' are proposed, such as tooth pullers , henna tattoos, magical healers, and the famous water carriers in traditional dress. The show is permanent in Jemaa El Fna and it is primarily why you can find Marrakchis and tourists from around the world during a stay in Marrakech. In short, this place is the most visited in Marrakech is a good experience that should not missed." – Nezar Mghardaoui